Posted September 9, 2021
At Genacross Lutheran Services, the health and well-being of our residents, patients and employees is always our first priority. Now more than ever, in light of the coronavirus (COVID-19) outbreak and the vulnerable "at risk" populations we serve, that remains true. We have been and will continue to follow the guidance of the Centers for Disease Control and Prevention (CDC), the Centers for Medicare and Medicaid Services (CMS), the Ohio Department of Health (ODH) and our local health departments.
We are committed to preventing the spread of the virus to the best of our abilities, while protecting our employees and providing compassionate care for those in need. Thank you for your support and trust during this challenging time. We take this responsibility very seriously.
When will the COVID-19 vaccine be available to Genacross residents and employees?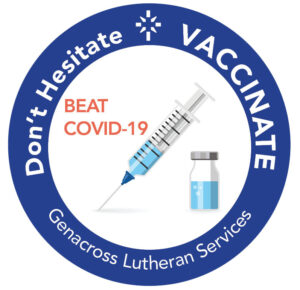 In the first phases of vaccine distribution (1A and 1B), the vaccine supply was limited. During Phase 1A, Ohio prioritized its most vulnerable citizens, which include residents and staff at nursing homes, assisted living facilities, and other congregate care settings. This included approximately 1 million Ohioans. Residents and staff at our four care campuses have been given the opportunity to get the COVID-19 vaccine. We were very excited to be among the first to receive the vaccine, as it is the best way to protect our vulnerable residents and our dedicated staff members. The vaccine has been a huge opportunity for us to help slow and eventually bring an end to COVID-19 and, most importantly, save lives.
As Phase IA vaccination distribution finished, Phase 1B began, focusing on Ohioans age 65 and up and those who were born with certain health conditions. Most residents living in Genacross independent living senior communities were able to get vaccines during this phase, if they wanted to receive them.  The state of Ohio worked its way through the COVID-19 vaccination phases before opening up vaccines to people 16 and older beginning March 29, 2021. Available vaccines are administered to those individuals who choose to receive it.
Can I visit my loved one in nursing care?
Indoor and/or outdoor visitation for our nursing home residents has been implemented periodically over the past year. Staff members at each of our care campuses work diligently to meet the stringent criteria set up by ODH to keep our most vulnerable residents safe and healthy from COVID-19. Several factors are carefully considered before offering visitation, including resident testing, employee testing, as well as community spread.
Click here to access the most recent information on visitation from CMS.
We understand how difficult it has been for family members to not be able see their loved ones in nursing care. We have all been asked to prioritize safety during this pandemic, and we know the lack of social contact with families has been painful. We deeply appreciate the sacrifices you have made to limit the impact of COVID-19 in our Health Center. We continue to encourage visits that take place using alternative methods of communication, such as phone calls, video chats and closed window visits (weather permitting).
Please reach out directly to your loved ones' campus for more information:
Napoleon Campus –  Visitation is available. Call 419-592-1688 for more information.
To access Napoleon's COVID-19 update, click here.
Toledo Campus – Visitation is available. Call 419-724-1738 to schedule a visit.
To access Toledo's COVID-19 update, click here.
Wolf Creek Campus – Visitation is available. Call 419-861-2233 for more information..
To access Wolf Creek's COVID-19 update, click here.
How do I set up a visit with my loved one in assisted living?
Genacross is offering visitation in the assisted living areas at our care campuses. The availability of visitation may change based on such factors as resident testing, employee testing, and community spread. Each campus screens its visitors by taking temperatures and asking health-related questions. Please do not visit if you are not feeling well. Visitors to the campus will need to practice social distancing and must wear masks at all times.
We are excited to implement this for our assisted living residents. We appreciate your understanding and cooperation, as we move forward in a safe manner with visitations. Please reach out to the appropriate campus to schedule a visit:
Napoleon Campus – Visitation is available. Call 419-592-1688 for more information.
To access Napoleon's COVID-19 update, click here.
Toledo Campus – Visitation is available. Call 419-724-1738 to schedule a visit.
To access Toledo's COVID-19 update, click here.
Wolf Creek Campus – Visitation is available. Call 419-861-2233 for more information.
To access Wolf Creek's COVID-19 update, click here.
Bethany Place – Visitation is available. Call 419-334-5500 or 567-277-2291 (after 4 p.m. and on weekends) to schedule a visit.
What precautions is Genacross taking to minimize the impact of COVID-19 on residents, patients and employees?
From the outset of the pandemic, Genacross has exercised an overabundance of caution in dealing with the virus.
We are meeting or exceeding protocols and guidelines established by government agencies, such as the CDC and ODH.
As a COVID-19 vaccine becomes available to our communities, we will be offering it to our residents and employees.
Scheduled indoor visitations at our Napoleon, Toledo, Wolf Creek and Bethany Place campuses are periodically available as conditions change with our communities. Indoor visitation must meet stringent criteria set forth by ODH and the CDC to protect our most vulnerable populations from COVID-19.  The only exceptions to this restricted visitation policy are for compassionate care situations, such as end of life.
Our staff members are adhering to social distancing guidelines as they provide compassionate care and engage residents to maintain their physical, mental, and spiritual health. Group activities and gatherings have been replaced with creative solutions for resident engagement. Our communal dining rooms are operating at limited capacity, with dining schedules that allow for appropriate social distancing.
We initiated aggressive proactive infection control measures. Our rigorous sanitation regimen follows, and in some cases exceeds, all state and federal guidelines. We have increased the daily volume of cleaning done in common, medical and residential areas. All protective and medical equipment are thoroughly cleaned and disinfected.
Employees and other essential workers are thoroughly screened when entering our care campuses and other ministry locations.
To protect our residents and staff, all employees are wearing face masks as recommended by state and federal guidelines to reduce the likelihood of transmitting the virus.
We are in very close communication with local and state health officials to ensure that we are taking the appropriate steps at this time.
When/if identified, we work to contain the virus by creating isolation units with designated staff to care for the residents.
How can I visit or communicate with my loved one?
While indoor, supervised visitations may be available at our campuses, the availability of those visits can change at any time. Other types of visits are also beneficial to the well-being of residents. Early in the COVID-19 outbreak, Genacross purchased 50 tablets equipped with video chat capabilities and distributed them among our care campuses to help mitigate feelings of isolation by our residents. Besides video chats, we are encouraging and offering families several other ways to keep in touch with their loved ones during this difficult time. Options include: phone calls, cards and letters via mail, emails, window visits, package and food drop-offs, etc. Each Genacross ministry is handling these options a little differently, so please reach out to your loved one's location for guidance. Our staff is more than happy to help facilitate interactions.
Does Genacross have adequate PPE?
While personal protective equipment (PPE) is in short supply nationwide, Genacross Lutheran Services is working constantly with our suppliers and local health officials to ensure that we have adequate resources throughout our ministries. Genacross is maintaining a central inventory of PPE and can shift supplies quickly to locations as necessary to meet needs. In addition, we continue to follow or exceed all recommended guidelines for infection control.
What happens when/if a resident tests positive for COVID-19?
If a resident tests positive, we take great care to ensure that they are made comfortable in an isolated area and are under constant supervision. While caring for residents in isolation, staff wear full protective equipment, including medical gowns, gloves, eye protection and masks, and they are restricted to working solely in that unit. Furthermore, any resident who exhibits symptoms of COVID-19 will be moved to isolation for further monitoring. As normal, if a resident's condition warrants it, the individual will be moved to a hospital setting. A member of the resident's care team will keep family members updated throughout the entire process.
What happens when/if an employee has symptoms of the virus?
Prior to each shift, employees are required to wash their hands, take their temperatures, and answer a series of questions to ensure they are not exhibiting any known COVID-19 symptoms. Employees also take their temperatures at the end of their shifts. Any employee who develops symptoms during a shift will be sent home immediately. At that point, they are directed to see a doctor and quarantine at home. If a subsequent test is positive for COVID-19, the employee must be symptom-free and stay isolated at home for at least 14 days. They may return to work following a doctor's order.
Are you able to maintain staffing levels?
The short answer is yes. Our staff has been amazing. They work tirelessly to care for and engage our residents and patients every day. They are true heroes during this time of uncertainty, and many are going above and beyond to provide care and services.
The more involved answer is that, while our staff is doing excellent work, we have open positions throughout our ministries and anticipate growing staffing needs as the virus spreads. Many individuals who have been displaced from jobs have transferrable skills that can be utilized at Genacross. Please encourage people who may be looking for work to check out the Careers section of the website.
How can I help?
Donate masks. Like many others challenged by COVID-19, Genacross ministries are in need of masks. If you know of groups or individuals who are making masks and would like a place to donate them, our residents and staff could surely benefit from them. So, if you have donations of masks or have members who are making them, please let us know. Please contact Amanda Schroeder, Vice President of Home & Community Based Services, at ASchroeder@Genacross.org or 419-309-4288.
Send messages of caring. Since our residents and patients in our long-term care and assisted living are not allowed to have any visitors right now, keeping them engaged and in good spirits is a challenge we embrace. One way to do help with that is for the residents to receive mail that shows people are thinking about them. If you are interested in sending cards or letters to residents, please contact our campus in Napoleon, Toledo, Holland (Wolf Creek), or Fremont (Bethany Place) directly to coordinate delivery of your messages.
Donate personal care items. Numerous residents living in our senior independent living communities are in need of paper products and toiletries essential to their personal care. Often, these items are difficult for them to obtain, and that is truer than ever now. If you can help with such items at one of our housing sites, please contact Jackie Petersen, Director of Management and Service Coordination, at JPetersen@Genacross.org or 567-277-2960.